Learning and Laughter – April 26th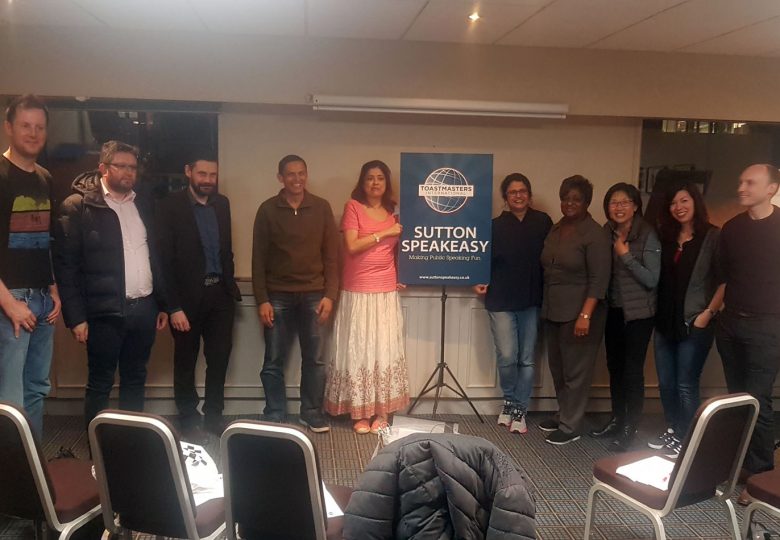 What a fantastic evening at our new Toastmasters' club! The third meeting of Sutton Speakeasy on Thursday 26th April was sparkling and sensational.
We were treated to three tiptop speeches full of learning and laughter. The speakers clearly enjoyed speaking before our lovely supportive audience. We learnt about using every one of our minutes, about France, and about dancing. Well done to Dan, Paul and Phoebus.
There were smiles all round during our topics session. Congratulations to our nine topics speakers who shared wonderful stories with humour and poise. It was an excellent fun filled session and the Sutton Team are delighted that so many guests chose to take part.
Toastmasters' clubs are all about improving our speaking skills, that is why they're feedback rich environments. Sutton Speakeasy is no exception! Our evaluators gave insightful feedback: they let the speakers know what they did well and offered suggestions to help make their speeches even better. Really useful support and learning for everyone in the room. Thanks to Tara, Doris and Dave.
Our next meeting is on Thursday 10th May. It promises to be even more superb than the last. We meet at 7.15pm for a 7.30pm start. There is free parking under the hotel if you sign in at reception with your car registration. Please come along to find out what Sutton Speakeasy can do for you. There really is no pressure to speak. We guarantee that you'll leave smiling!
Lloyd
Sutton Speakeasy Vice President